Our leadership has continued to monitor the situation with COVID-19. We have made the decision to redirect our physical services to our Live Streaming on Facebook until further notice. We will update you on our decisions regarding physical services as they are made.

During this time we will be Live Streaming on Facebook at 9:30am each week. This video will become available shortly after Live Streaming is completed for viewing if you are unable to join us live. We will be sure to post the video on our timeline so it can be easily accessed.

Bulletins will be accessible via the You Version Bible App. Open the app and click on the 3 horizontal lines on the bottom right, click events and search for New Beginnings Community Church. We also plan to post a picture of the bulletin on Facebook and in an email each Sunday morning prior to service beginning. This is a great way to follow along with the service!

Due to bulletins being digital, we will not have a connect card, but if you would like to send in any prayer requests please don't hesitate to message us on Facebook or send an email to admyn.nbcc13163@gmail.com

Tithing options available to you:

1. Easy Tithe App-simply download the app on your phone and enter the church's zip code (13163). Once you have selected New Beginnings, follow the directions to create a new account. If you have used text-to-give before it will be the same log in username and password.

2. Text-to-Give- Text any dollar amount to (315)834-4349. If you are a new user, you will receive a link to a secure website to set up your account. Follow their directions for easy giving.

3. Visit our website and click the "Donate" button located in the menu,3 horizontal lines at the top right, if using a mobile device. If you are using a computer, the donate button is located at the top of the website on the left and right of the page.

4. Snail Mail- You can send in your tithe to:
New Beginnings Community Church
P.O. Box 30
Wampsville, NY 13163

Life Groups: During the would like to leave the decision to continue or cancel Life Groups up to each individual Life Group. You should receive a message from your Life Group Leader with information about your gatherings.

Our staff is working hard to ensure the church is properly disinfected. We are complying with Department of Health guidelines for disinfection and your health and safety are our number one priority at this time.

During this difficult time we would like to challenge you to find opportunities to share Jesus' light with those around you. Think of someone that you can help navigate this crisis and check up on them throughout this time. Remember that fear is not from God. He has given us a spirit of power, love and self-discipline //2 Timothy 1:7//.
Our Mission
To be a church where the unchurched people want to go.

Our Vision
To lead people to follow Jesus with all their hearts.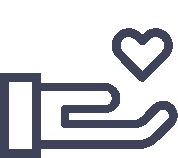 "Give honor to the Lord with your wealth, and with the first-fruits of all your increase: So your store-houses will be full of grain, and your vessels overflowing with new wine."
-

Proverbs 3:9-10